Product Information
Steel Cord
Wire for reinforcing the radial tire from inside. It is an important reinforcement for the tire.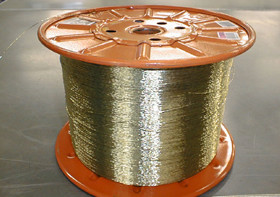 Steel cords are twisted a few to dozens of φ0.15~φ0.4mm wires and these are applied brass plating for adhering rubber.
And our steel cords use high cleanliness high carbon steel wire rod only for steel cords. They have enabled high strength, high flexibility and high fatigue resistance products.
Steel cords are the important reinforcement used for belt section that responsible for steering stability and durability in steel radial tires and also used for carcass section in large tires for trucks and busses. And they are used for reinforcement for belt shaped rubber products and hoses, too.
Tokusen's products have been used in most of the tire manufacturers in the world. We will continue to manufacture good products with new proposals and promoting the joint development with tire manufacturers for responding needs of the market and quality demand of tire manufacturers.