Product Information
Prove Card Pin
Probe card pins are high-performance pins used for electronic component testing. These pins have a precision tapered profile.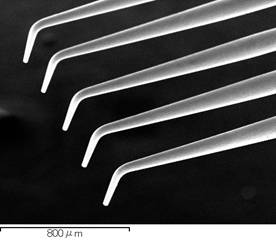 Probe card pins contact electrode pads on LSI chips and other semiconductor devices during the production process to test for conductivity. As today's LSI chips become increasingly integrated, greater demands being placed on smaller diameters and greater precision.
Using our many years of experience in grinding technology as a base we have developed a unique taper grinding process that allows us to produce a probe card pin with the tapered profile held to such high tolerances not achievable with conventional etching processes.
Our unique grinding process can grind precious metal materials, unsuitable for etching, to a high level of accuracy that leaves taper of excellent linearity and variation-free uniformity. We can also provide pins bent to application-specific profiles. Other requirements such as various tip shapes and surface treatments, including plating and insulation, can also be provided upon request. Additionally, we also make available various sub-micron (50-µm dia. or less) pins for vertical cards and wire probe pins made of high-speed steel.