Product Information
Dot Pins
Dot pins are used in dot-matrix printers. Our pins are known for being durable and reliable.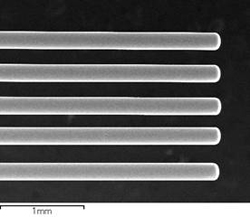 Dot pins are used in printers that form letters and numerals as a collection of dots. The pins, a mission-critical component in these dot-matrix printers, must be reliable enough to withstand more than 400 million impacts.
Our high-quality dot pins are the product of advanced technology in drawing and heat treating gained over many years. The material uses powdered high-speed steel treated with HIP to leave a consistent void-free base. The pins are finished into hard and tough dot pins with excellent linearity by using an original oil tempering process (continuous heat treating and quenching) for ultrathin wires.
The pins are produced from start to finish on a dedicated line to minimize costs. Our share of pins is the highest in the printer market, which includes printer manufacturers in Japan, and recently, customers outside of Japan.
In addition to straight pins, our lineup also includes steps and head shaped pins.